Welcome to Carollyne.com, an online art gallery
Carollyne Yardley is a storyteller at heart, and her artwork is based on imaginary creatures, transgene characters; misfits and alienation. Or perhaps an alien nation. She specializes in contemporary, squirrealism, pop surrealism, lowbrow art, fine art paintings, illustration, multimedia, digital art, and costume design. The squirrel face is a metaphor for the secrets we keep.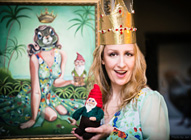 This online gallery profiles Carollyne's ever-growing portfolio in pop surrealism. It also links to her blog and biography...

Here you can purchase fine art giclée prints on canvas of Carollyne's work. Original paintings are available for sale...

Carollyne.com is your source for news & events, and links resource for posts about the Canadian & International art scene...
E-Newsletter Sign Up

Enter your email address & click "sign up" to receive the monthly e-newsletter to stay current special art events.
Original Paintings

Check out the latest selection of orignal art work for sale.
Limited Editions

Carollyne.com has a selection of small run, limited edition giclee reproductions, each signed by the artist.