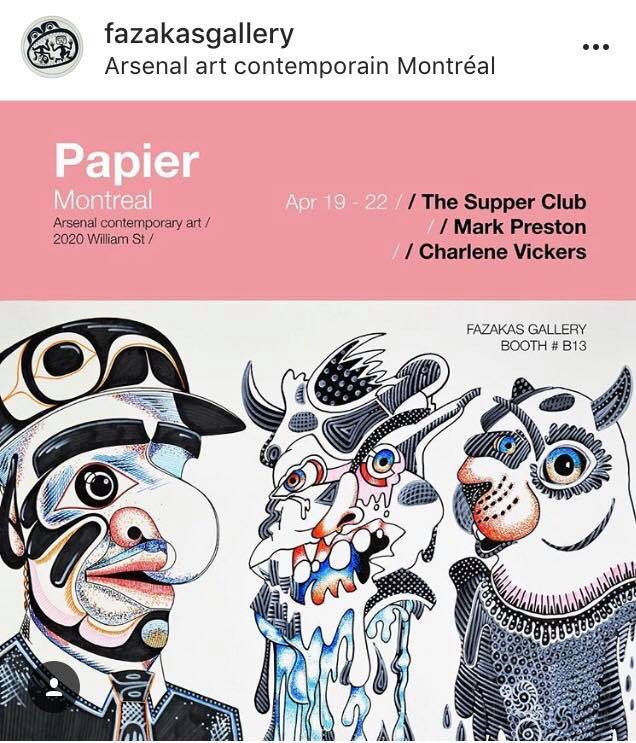 Foire Papier – Papier Art Fair | 19-22 April 2018 | Foire d'art contemporain | Contemporary Art Fair
www.papiermontreal.com
Papier 2018 Montréal, Quebec
April 19 – 22 Fazakas Gallery Booth: #B13
Arsenal Contemporary Art, 2020 William Street, Montreal, QC H3J 1R8
Artists: The Supper Club (Rande Cook, Carollyne Yardley & Noah Becker), Mark Preston, Charlene Vickers
See full catalogue at Fazakas Gallery here
The Supper Club
Fazakas Gallery will be exhibiting collaborative works on paper by three Canadian artists; Rande Cook, Carollyne Yardley and Noah Becker. This threesome began collaborating during an evening out at a restaurant on the west coast of Canada.
Cook, Yardley, and Becker continue their own art practices, but united for what they call 
The Supper Club.
 This social gathering was an effortless way to meet in the evenings after working at separate studios. The drawings began in the midst of a bustling and dimly lit Spanish-themed restaurant, with paper laid out on the table and drawing tools arranged alongside wine glasses and utensils.
This convergence occurred several more times; at different restaurants, a private club, and at one of the artist's home. Each assembly of The Supper Club included the sharing of a meal between friends. The resulting twenty drawings feature spontaneous explosions of playful marks and remarks; the interchange of loops, dashes, ravens, squirrels, faces, clouds, and formline.  
These works on paper have separated themselves by tone and energy unique to each evening – a collection of four drawings per night. A warm summer night elicited colour, clouds, playfulness, pop culture motifs, hallucinations, escape, and dreams – all intermingling like thought bubbles. By contrast, a fall evening generated vertical renderings featuring nature, trees, skulls, growth and earthly elements. 
The Supper Club drawings serve as a record of the artists' friendship, and a diary of the thoughts and emotions at work by their subconscious minds during collaboration. Each artist's own unique iconography is woven into the paper with surprising and spontaneous new narratives.  What's most interesting, however, is the how this trio of unstructured and unfettered pen to paper dance steps fuse together to create an troupe of harmonious forms and imagery through cross-cultural exchange.
Events photos and media
Border Crossings
ARTIST BIOS

CAROLLYNE YARDLEY
Carollyne Yardley's self-coined term 'Squirrealism' is used to describe a deep exploration of metamorphosis and identity through her richly detailed neo-classical inspired paintings of masks and hybrid/animal beings.  She was also successful in maintaining her registered trademark Carollyne® after being subjected to an expungement proceeding by a large U.S. toy manufacturer.
NOAH BECKER
Noah Becker's multimedia practice includes writing, publishing, and films, but he is best known for his paintings, which use the idiom of classical portraiture to explore the formal and allegorical possibilities of the human figure. Becker further examines art historical themes and tropes as the Editor-in-Chief of Whitehot Magazine.