In the Mood for Love – An Exhibition Featuring Chinese and Canadian Female Artists.
December 12, 2017 – January 31, 2018
Presenting Artists
China: Shen Ling, Chen Xi, Cai Jin, Yu Chen, Gao Qian, Zhang Yanzi, Peng Wei, Dong Huiping, Jiang Jie, Xiao Lu, Teng Fei, Zhang Fan, Geng Xue, Lv Yue, Ji Yujie, Cui Xiuwen, Zhou Lan, Wang Limin, Xiao Suhong, Kang Lei, Shao Yiyang
Canada: Emily Carr, Marianna Gartner, Rita Letendre, Frances Semple, Dorothy Knowles, Carollyne Yardley
Details below
The "In the Mood for Love" exhibition organized by Poly Culture North America and China Gauguin Culture Media Co., Ltd. will be opening on December 12, 2017 at the Poly Culture Art Center.
This exhibition serves as part of the Canada 150 celebrations and promotes cultural exchange. This exhibition features carefully selected works from 21 female artists from China and Canadian female artists and is the first joint exhibition in Vancouver of female artists from both China and Canada. The female artists part of this exhibition are highly influential and well recognized in the international art community. Through a comprehensive presentation of various materials and mediums, an exploration can be made into female art philosphy and aesthetic consciousness coming from vastly different cultural backgrounds.
The outstanding works by the 27 female artists from China and Canada will bring to the North American audience a unique and rare visual experience in Vancouver this winter.
Kong Weiwei, Deputy Consul General of Consulate General of the People's Republic of China in Vancouver; Hu Xiao, Cultural Consul; Erica Tao, Regional Director General for Canadian Heritage; Dianne Watts, former mayor of Surrey; Chen Yi, director and CEO of Poly Culture North America; Ameila Gao,  chief planner; Dong Huiping,  exhibition curator; and Fu Yijing,  exhibition academic director were all present at the opening ceremony and delivered speeches.
As representatives of participating artists, Chinese artists Lyu Yue and Yu Chen along with Canadian artists Frances Semple and Carollyne Yardley also participated in the opening ceremony. BC Governor John Horgan sent a letter of congratulation for the exhibition with well-wishes.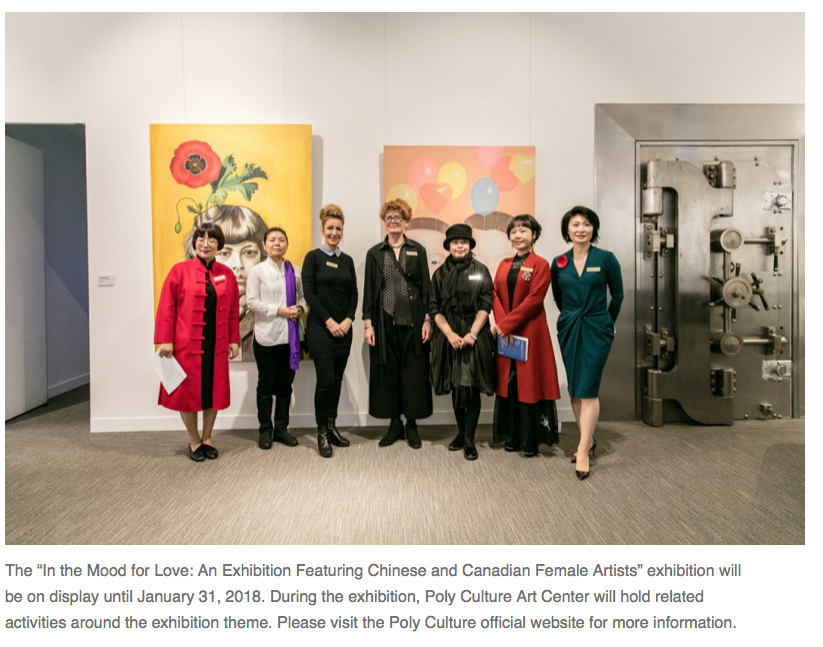 Exhibition Details
Organizers: Poly Culture North America Investment Co., Ltd., Beijing Gauguin Culture Media Co., Ltd.
Co-organizers: Poly Culture Art Center
Chief Planners: Chen Yi, Amelia Gao
Academic Director: Fu Yijing
Curator: Dong Huiping
Exhibition Venue: Poly Culture Art Center, #100-905 West Pender St., Vancouver
Exhibition Time: December 12, 2017 – January 31, 2018, Tuesday-Saturday: 10:00AM – 5:00PM
Special Dates: Please note that the art center will not be open to the public on the following dates, we apologize for any inconvenience.
          December 12 – 10:00AM to 2:00PM
December 13 – 10:00AM to 1:00PM
December 16 – 12:00PM to 3:30PM
Presenting Artists
China: Shen Ling, Chen Xi, Cai Jin, Yu Chen, Gao Qian, Zhang Yanzi, Peng Wei, Dong Huiping, Jiang Jie, Xiao Lu, Teng Fei, Zhang Fan, Geng Xue, Lv Yue, Ji Yujie, Cui Xiuwen, Zhou Lan, Wang Limin, Xiao Suhong, Kang Lei, Shao Yiyang
Canada: Emily Carr, Marianna Gartner, Rita Letendre, Frances Semple, Dorothy Knowles, Carollyne Yardley
Official website and WeChat QR Code:
Poly Culture North America: www.polyculture.us
Gauguin Culture Media: www.gauguingallery.cn