Earlier this year (April 26, 2017), I attended a book launch for Vincent Trasov: Mr. Peanut Drawings, a new artist's book published by New Documents at the Franc Gallery, Vancouver, BC. @francgallery  This was my first time meeting Vincent, and I was intrigued by his eccentric anthropomorphic use of one of the most popular brand mascots of the twentieth century. After meeting, and reading his newly published book, I saw parallels between Mr. Peanut and the Squirrel. They both make use of transformation, remaking art history, surrealism and absurdity. My attention was peaked upon opening the book of drawings and seeing a drawing of a squirrel eating a peanut both at the beginning and the end of the book. Surely this was a sign of collaborations to come.
Later this year (July 6, 2017), I accessed my mailbox to find a brown envelope waiting for me. Upon opening, I found this incredible gift. A pen and ink portrait of me drawn by Vincent Trasov with a dress and gloves to match the era of my hair bun. Notice the little squirrel in the crown of my hair. What an honour to be featured in Canadian art history this way. I am now planning my response.
Update: January 2017
I painted this oil painting as my response. It is a 9″ x 12″, oil on canvas, and I shipped it to Vincent via Canada Post from Victoria to Berlin where he resides. He wrote to tell me it arrived in perfect condition, and exclaimed, "What a beautiful painting!" It is one of the few oil paintings in his collection.
Background
In 1970, Trasov assumed the identity of Mr. Peanut, donning a handmade paper mâché replica of the mascot of the Planters Peanut Company. Soon after, he produced The Mr. Peanut Mayoralty Campaign of 1974, a twenty-day performance developed in collaboration with members of the Vancouver arts community. Mr. Peanut's platform in 1974 was for an art city: P for Performance, E for Elegance, A for Art, N for Nonsense, U for Uniqueness, and T for Talent. Trasov's performance brought Vancouver to national and international attention and received features in Esquire magazine and Andy Warhol's Interview magazine.
Beat writer William S Burroughs, who happened to be in town, endorsed his candidacy, according to a news release about the exhibition.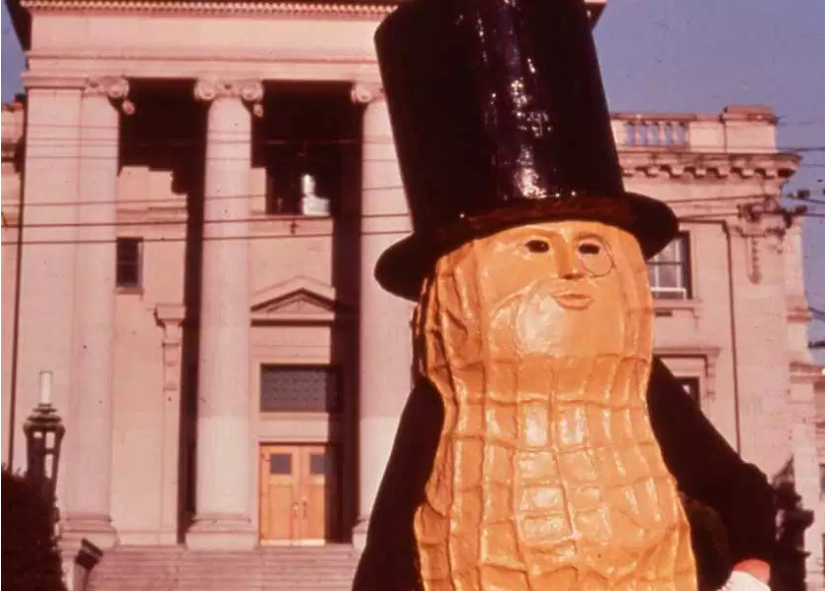 "I would like to take this opportunity to endorse the candidacy of Mr. Peanut for mayor of Vancouver. Mr. Peanut is running on the art platform, and art is the creation of illusion. Since the inexorable logic of reality has created nothing but insoluble problems, it is now time for illusion to take over. And there can only be one illogical candidate: Mr. Peanut."
Mr Peanut got 2685 votes, or 3.4% of total votes cast, and incumbent Art Phillips won the day.
The legume quickly became Trasov's cipher and central component of his practice. Mr. Peanut Drawings collects nearly a hundred of Trasov's Peanut drawings together with a text by Nancy Tousley.
Mr. Peanut Drawings Book
Edited by Jeff Khonsary
19 × 26.5 cm
168 Pages, Hard Cover
ISBN: 978-1-927354-28-5
First Edition (2017)
Purchase at New Documents: https://new-documents.org/books/mr-peanut-drawings
BIOGRAPHY
Vincent Trasov is a painter, video and performance artist. His work is often media based and collaborative in spirit, involved with developing networks. He is a Canadian born in 1947 in Edmonton. In 1969 he founded Image Bank with Michael Morris, a method for personal exchange of information amongst artists; he has made videotapes since 1971; 1973 he was co-founder and co-director of Western Front Society, Vancouver, a centre for the production and presentation of new art activity; 1981 he was invited with Morris as guest of Berliner Kunstlerprogramm, DAAD to Berlin; 1991 he and Morris founded the Morris/Trasov Archive, currently housed at Morris and Helen Belkin Art Gallery, Vancouver, to research contemporary art and communication. Trasov has had numerous international exhibitions and is represented in public and private collections in both Europe and North America. He presently resides in Berlin and Vancouver.