Congratulations to Analogue Magazine Dec/Jan issue. Last night analogue magazine launch party at the Copper Owl featuring Kathryn Calder (SOLO) and OLD GIRL. Anonymouse made an appearance and was thrilled to be part of this months issue. Pick up your copies. Locations listed at their analogue page. With Jeremy Herndl, Renee Leighann, MaryEllen Green, Nicholas Oswald Lyons
SERIOUSLY SILLY: Horse Heads and Flower Beards In the Works of Carollyne Yardley
by Laurie White, Analogue Magazine, Dec/Jan 2016
Over the last few years, local artist Carollyne Yardley has become known in Victoria for her charming oil paintings of squirrels in snazzy costumes. But her latest work cannot be understood purely in terms of visual delight. What began as a charming  motif has evolved into a mechanism that allows Yardley to adapt her work to a wide variety of purposes. She is now at an exciting point where invitations from galleries and museums, like the costume collection at Government House, are pushing her work into new fields. Yardley can use the lexicon she has spent the last several years developing to start saying something serious.
These new pieces combine contemporary social trends with art historical references in a kind of cultural collage work to create images so dense with information as to be overpowering. Attempts to unpick these pieces can be baffling and even frustrating, yet is not always possible to comprehend the fuel scope of her practice by looking at one image; themes recur through Yardley's work that only  become meaningful when taken as whole.
In Flower Beard, Carollyne Yardley reinterprets the Renaissance fondness for painting squirrels sitting next to big bowls of fruit, the fluffy rodent often associated with feminine virtues and natural bounty. Yardley's squirrel dons a flower beard, a phenomenon that spread across the internet in 2014 involving bushy bearded blokes adorning their faces with elegant arrangements in a whimsical joke that flipped masculine facial hair on it's head. Squirrels, flowers, and beards coalesce into a playful exploration of gender stereotypes. By placing her self-branded "Squirrealism" at the intersection of Renaissance masters and hipster dudes, Yardley weaves her own history into the fabric of time, wryly treating herself as the canon to be parodied. Her exquisite oil painting technique lends a certain authority to the absurd, allowing the serious and the silly to hover together on the same plane of existence.
This cross-pollination of the grave with the goofy continues in Skinner's Horse. Yardley combines the uniform of the Skinner's Horse Brigade, a relic of British Imperialism in India, with the iconic Archie McPhee rubber horse mask. To me, this work highlights the contrast between two types of cultural organization; on the one hand, the forced control of colonialism, and on the other the kind of unregulated, spontaneous popular activity that has adopted the horse mask for the symbol of anonymity. Rather than a medium of disguise though, the mask is a way of highlighting something overlooked. The anonymous horses of the cavalry regiment are here invoked by a symbol of anarchic contemporary folk culture. This image dissolves the tensions between colonizers and colonized into such a concise statement as to be absurd. The only way out is to laugh.
The masked figure in the Celebrity of Being Anonymouse, is an overwrought web of references that is a challenge to wade through. In this work, a female figure wears a one-of-a-kind ESCADA jacket, itself an interpretation
of the work of one of art's most canonized figures, Salvador Dali, and an emphatic symbol of the rarefied elite culture of the 1%. The jacket is contrasted with the Guy Fawkes mask, adopted as the face of hacktivist group Anonymous. All the while, a pair of Mickey Mouse ears sit jauntily top the construction, a succinct representation of the most powerfully hegemonising force of cultural representation to have ever existed. Like Skinner's Horse, the image is so dense with contradictory symbols as to become almost nonsensical; the individual components are rendered mute be the entire composition. But this piece is more than a mere sardonic juxtaposition of symbolic opposites. The frustration one feels while trying to make sense of such an image is in itself representative of the real life struggle for clarity in a world flooded with information. The Celebrity of Being Anonymouse may be a maze full of dead ends but it is the process of trying to make sense of the work that is the real message.
It is difficult to say anything unifying about Carollyne's work if we look at the individual references too closely. What is apparent overall, however, is her playful combination of cultural references from art history, internet memes, fashion design, and activist subcultures. The result is a work borne out of experimentation, an anything goes approach which creates new imagery with freedom and a lightness of touch. Yardley is throwing a bunch off "what if?" scenarios to get the viewer thinking about hefty  issues like gender politics and colonialism. Her work highlights that we are connected to out past be play as much as by anything else. Sometimes the best way to get serious is to get silly.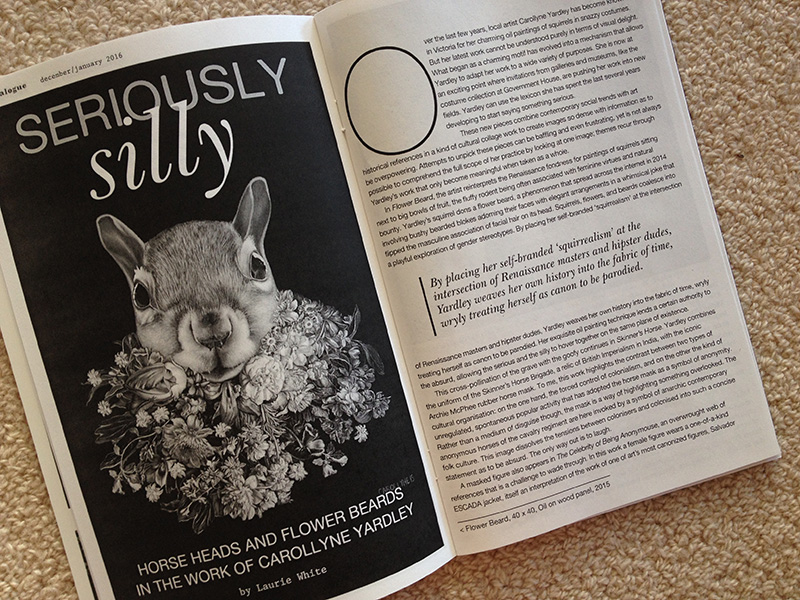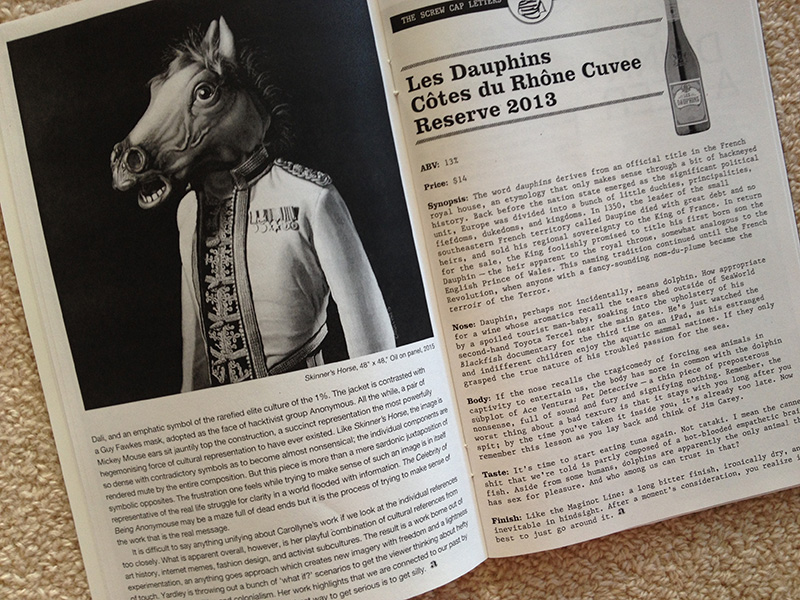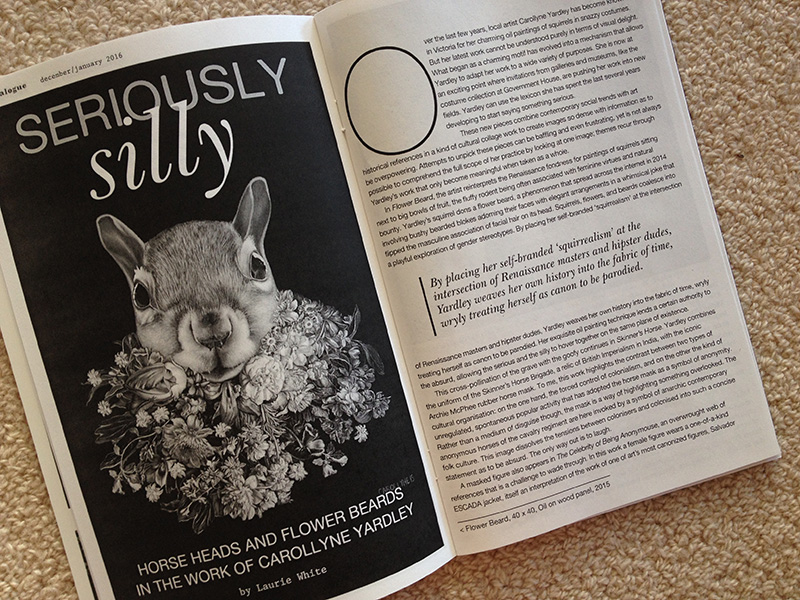 Inside article by Laurie White, pgs. 14-16 Analogue Magazine, Dec/Jan 2016 issue.