Ravenous
Alcheringa Gallery
June 23 – July 19, 2014
Opening Reception: Saturday, June 28th, 2-5pm
Squirrels became a vehicle for collaboration when First Nations artist Chief Rande Cook (Kwakwaka'wakw) invited me to paint his portrait. Cook carved a squirrel mask and we exchanged these two gifts. Chief Rande Cook Squirrel (2014) shows Cook as a hybrid human-squirrel wearing his traditional regalia and carved thunderbird mask (Cook's ancient ancestor) inspired by the Indigenous story of Squirrel and Thunderbird as recorded by George Hunt in 1899. A creative fusion of the works further developed, exploring ideas about kinship, interspecies relationships, and friendship.  
I'll be exhibiting works in collaboration with 
Chief Rande Cook (K'alapa).
 I'm thrilled to have been invited by Rande to be apart of this exciting show. And the squirrels are downright ecstatic, as well as ravenous.
Ravenous brings together two unique artists who share a passion for celebrating new ideas, works, and concepts about art. In this exciting new exhibit, Rande Cook and Carollyne Yardley will use personal identities, humour and storytelling to engage and remind viewers that art is alive, influenced, and constantly changing.
Rande Cook uses the story of trickster Raven, a shape-changer who inadvertently releases the light to the world, to the benefit of all of humanity, while Carollyne Yardley's squirrel mask is a trick for the mind, creating a cognitive dissonance about the characters portrayed and the secrets they keep. Both use allegory and metaphor in a visual dialogue that connects the artists' own unique stories, especially those that emerge from self-identity in a culture, to the contemporary art world.
Elements of humour in the artworks will be either obvious or obscured. Simultaneously inclusive and exclusive, humour reminds us that identity is alive. If you get the joke, you are included in the secret society. If you do not immediately see the layers and references then you may feel excluded – but this exclusion can serve as the spark for active engagement and revelations about the interconnectedness of world culture.
In Ravenous, the fusion of works from these two different storytellers will aim to set those sparks in wide audience — by opening the doors of traditional cultural iconography and challenging the sacred parameters that define any artistic movement today.
Featuring works by: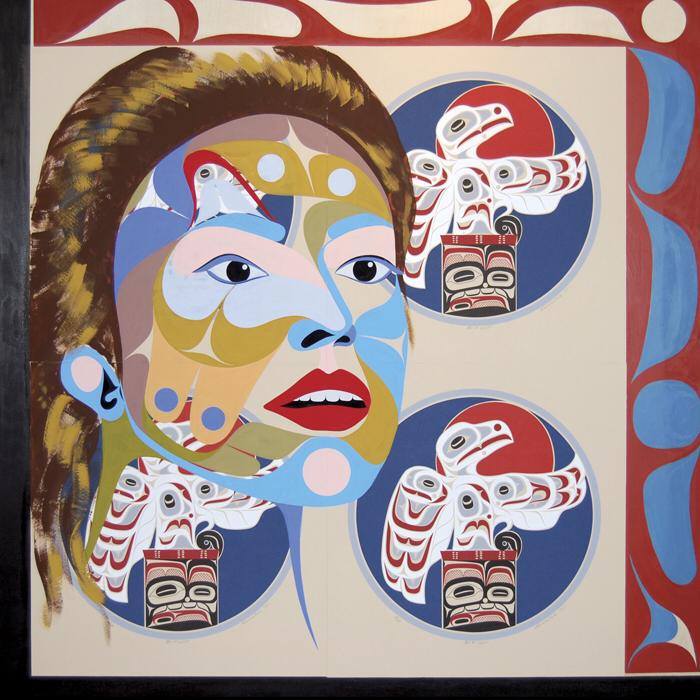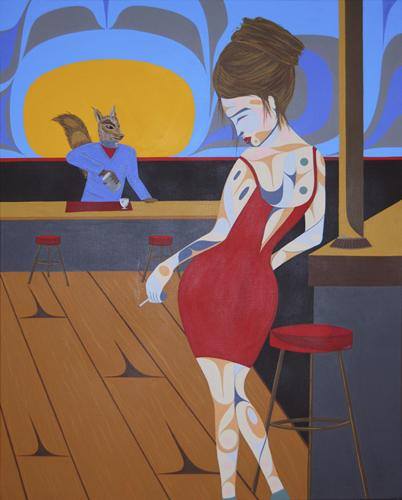 Media
Focus Magazine, June 2014 VOL. 26 NO.9 pgs. 32-33
Kate Cino, Alcheringa Gallery presents Ravenous with Rande Cook and Carollyne Yardley, June 23-July 19, 2014. Art Openings, June 16, 2014. Weblog.
RAVENOUS
Alcheringa Gallery
featuring works by Rande Cook and Carollyne Yardley
June 23 – July 19, 2014.
Opening Reception: Saturday, June 28, 2-5 pm
665 Fort Street, Victoria, BC, Canada V8W 1G6
T: 250.383.8224
GALLERY HOURS
Monday – Saturday: 9:30 – 5:30 pm
Sunday: 12 – 5 pm
Extended Summer hours.
Editors Note:
I first met Rande Cook at the closing reception for Difference and Repetition, the Slide Room Gallery, curated by Efren Quiroz. We were both included in this show where 30 artists riffed off of a Gerhard Richter painting. We had both seen each others works at the Art Gallery of Greater Victoria. Rande's curated show Urban Thunderbirds (with Francis Dick, LESSlie, and Dylan Thomas), was on at the same time as #Strangelings, Massey Gallery, AGGV
Hello! Many thanks to everyone who came to the Opening Reception of Ravenous at Alcheringa Gallery (June 23 – July 19, 2014) either in person, or in spirit. The show continues until July 19, 2014. The Alcheringa Gallery is downtown, located at 665 Fort Street, Victoria, BC.
SEE POST WITH ARTWORK/IMAGES FROM THE SHOW HERE
I am going to post media, photos and video here over the course of a couple of weeks, so please bookmark this page and visit often.
PHOTOS (By Claire Beauchamp / Alcheringa Gallery)
MEDIA:
VIDEO:
Rande Cook and Carollyne Yardley at Alcheringa Gallery
Courtesy of Efren Quiroz of Exhibit-V.