Greetings!
I've returned from Maui fresh and inspired with new ideas, creatures, colours, textures – and I had an epiphany about the direction for my art (stay tuned). Here's a brief overview with a few photos I thought best enveloped the trip.
Snorkeling was great, in particular: Mile marker 14, Black Rock at Kaanapali, Molokini Crater, and Kapalua Beach.
Other great adventures: Submarines, the Aquarium, the Sugar Cane Train, top of the Haleakala Crater (chilly-freaking-cold at 10,000 ft above seawater), premium golf courses, whale watching, Iao State Valley Park, The Old Lahaina Luau, Feast at Lele, and Grammy Award winning SlackKey guitar players (George Kahumoku Jr., and Uncle Led Kaapana).
Two big highlights: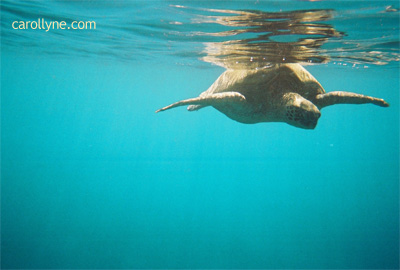 1) Big Highlight 1: Snorkeling adventure to Molokini (the extinct volcano) and turtle town. The water was clear and the colourful fish plentiful. They chased us and we chased them. We had just enough time to swim around Molokini before they took us out to Turtle Town. The turtles came up to surface all around us.
2) Big Highlight 2: Exceptional day for helicopter ride with Blue Hawaiian Helicopters (West
Maui and Molokai tour). Best was seeing the humpback whales from above.
The good food helped us coin the slogan for this Maui trip. Too much Pinkie, Not
enough Pant. I'll surely fit back into my pants in a couple of weeks. Whoever said you don't eat as much in hot weather didn't make an effort.
Mahalo, Carollyne.
P.S. I learned how to say this perfectly while there, and even after (gasp) drinking the whole Mai Tai (inside joke). Humuhumunukunukuapuaa, the state fish of Hawaii, is a Picasso triggerfish. Humuhumu means, "to fit pieces together" referring to it's nest building habit. Nukunukuapuaa means "nose like a pig". I'll tell you they are quite beautiful, and there's many of them, but they're skittish, and won't let you get too close like the other fishies. Otherwise, I would have posted nice pretty photo.