I was asked to participate as a "Celebrity Waiter" at the Tip a Fool gala this year. Tip a Fool is the annual gala fundraiser for the Citizens' Counselling Centre that happens on a Saturday night close to April Fool's Day. The last time I participated was 2013.
Tip a Fool has become a huge success over the last ten years, raising over $150,000 for the Greater Victoria Citizens' Counselling Centre. These dollars work very hard to provide quality, affordable counselling to the over 1,200 people that come through the doors of the Centre asking for help. People they serve are often between the ages of 18-28 years old, who can't afford the average rate of $125 and hour for a qualified counsellor.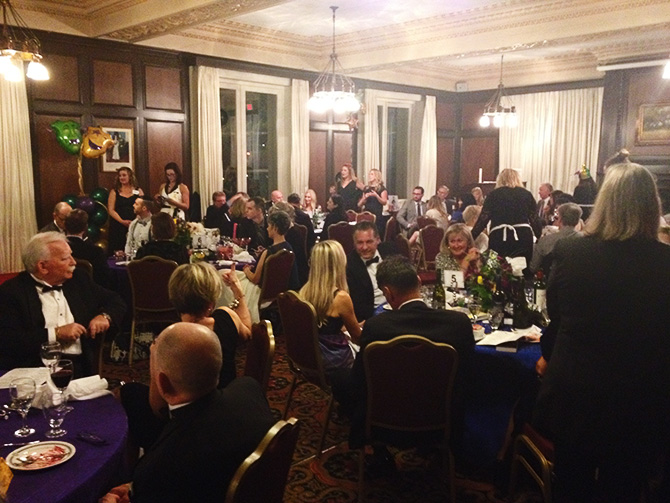 Tip a Fool 2016  
April 03. As of last night – the grand total brought in (that's gross) has been calculated at 
$58,186.
The Centre's annual budget in the area of $250,000 (that's what they spend to deliver counselling to ~1,200 people a year), $50K (+/-) makes an enormous difference. It means training new counsellors,
 keeping the lights on, the heat on, and the staff paid. It means that they carry on serving Greater Victoria. It costs about $2K to train one counsellor who then goes on to provide overs 250 sessions of counselling – which is worth at lease $15K.
My Big Celebrity Waiter Thank You
My contribution acting as a Celebrity Waiter this year raised $2,670 (final tip count plus chocolates won at silent auction).
A special thanks to my assistant Paul Hogan who came up with some amazing schemes, and was supportive throughout the entire night.
I would like to thank the following organizations who donated items which I hustled for $$$$ to over 119 people at this years event.
– Union Club of British Columbia
– Hotel Grand Pacific
– Art Gallery of Greater Victoria
– Victoria Whisky Festival
– Victoria Highland Games
– Anonymouse Whisky Donated
– Carollyne Yardley Omnimedia (art cards)
– Archie McPhee (many photos taken with people wearing squirrel mask)
 Finally, thanks to everyone who gave me money to help raise money for Tip A Fool. Some of it was pity money, because seriously, who wears a mask at the end of the night for $10 a photo?